18 Wheeler Truck Parking 2
Play Now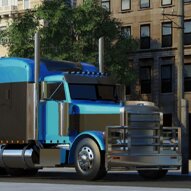 Unlock new maps by parking heavy vehicles with 18 Wheeler Truck Parking 2! Keep your vehicle safe in heavy traffic, make impossible turns, and collect stars between parking spots! Dodge other drivers, avoid hitting trees and structures, and complete parking quests to pass levels in this challenging parking game!
This game gives you difficult parking missions throughout America. You can start with the first city and warm up at the first level. Use the four main direction commands to move your truck. You must take the longer path and drive around cars, streetlights, and every other object on the street to keep your health high. Follow the "front" and "back" signs on the parking spots to place your vehicle on the spot. You can follow the green arrow sign above your vehicle to find the next spot. Each level gives you a few different quests at different locations placed on the same map. Park your 18-wheeler, move on to the next spot, and follow the sign to leave the area. You can unlock new vehicles by passing levels, and try all trucks. Complete all levels with three stars to discover the whole map, and improve your parking skills with this fun skill game!
If you like this parking challenge, you can check out Park a Lot 3 and keep parking as a restaurant valet!
Developer
Vitalitygames.com developed 18 Wheeler Truck Parking 2.
Release Date
August 17, 2022
Features
Colorful graphics
Simple controls
Improving reflexes and skills
10 levels
Increasing challenge
Controls
Use "W, A, S, D" to move your vehicle.