Play Now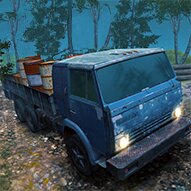 Accept missions and carry objects through tricky paths with 4WD Off-Road Driving Sim! Unlock trucks, use specific vehicles for different road types, and get challenged by the weather! Get carrying quests, keep your load safe through the road, and earn stars for your good work! Advance through levels to discover new maps and get access to different trucks!
This is the off-road driving adventure you have been waiting for! Ready your driving skills, reflexes, and patience; we have a lot of work to do! You get different goods from new customers each level. Luckily, you have nothing to do with the loading and unloading process of the car. You just get the missions and car ready to go! So, hit the gas and start moving slowly. There is no need to rush as this is not a race. Your primary mission is to keep the goods safe, so whatever happens, do not let anything fall off the car. You can always restart the level and try to get three stars. Slow down, or even stop to take a second when you must. Complete levels, get your stars, and discover new stages with new challenges. Try your new trucks with different land types and find the best truck for you!
If you like this challenging truck driving simulator, you can check out Ultimate Offroad Cars and learn to control your vehicle under the harshest conditions!
Developer
Vitalitygames.com developed 4WD Off-Road Driving Sim.
Release Date
July 20, 2022
Features
Colorful 3D graphics
Challenging maps and levels
Amazing backgrounds
Easy to play
Unlockable cars
Controls
You can use the arrow keys or "W, A, S, D" to play this game.