Truck Driver: Snowy Roads
Play Now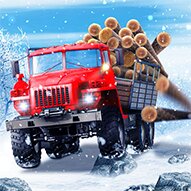 Control trucks in races, challenges, and free-drive modes with Truck Driver: Snowy Roads! Invite a friend over for a race or take your place against the game bots and discover the difficult tracks of one-lap truck races! Learn the control mechanisms of these road giants with this addictive simulation with lots of game modes, and challenge other players!
Get behind the wheel, turn on your car radio, and discover the snowy mountain roads with your truck. You can spend hours peacefully driving your heavy vehicle in the harshest weather and discovering a stunning snow map. Try the racing mode and choose between 1P and 2P options to decide who you are going against! You can invite a friend and share the screen with them or keep the fun to yourself and try your chance against the game. The third mode allows you to take challenging missions from customers and perform them in a limited time. Get machines loaded on your truck and keep them there in one piece until you reach the goal! Be careful about the bumpy road shapes and hills, and watch out for the slippery ground! Try all three modes, save money, and unlock new vehicles!
If you like this truck driving simulation with fun game modes, you can check out 18 Wheeler Driving Sim and accept new challenges with your truck!
Developer
RHM Interactive developed Truck Driver: Snowy Roads.
Release Date
July 28, 2022
Features
Nice 3D graphics
Relaxing scenes and stunning backgrounds
Easy controls
Fun game modes
1P and 2P options
Controls
You can use "W, A, S, D" to play this game.