Car Eats Car: Sea Adventure
Play Now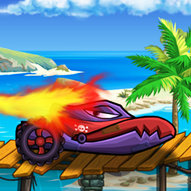 In Car Eats Car: Sea Adventure, get ready for a new, fantastic adventure of this popular series! This time our good old evil cars are on an adventure in the tropical seas. Because of the terror they've been causing, all of them ended up in prison, except for Archiver. You need to help him to rescue his friends so that they can continue terrorizing the island. So, let's start the game and help them to complete this crazy adventure!
In this exciting adventure game, you have a big map of destinations to go. But be careful, there are other cars out there who want to stop you! Can you help these cars by destroying the enemies? Use your keyboard arrows to move the car and shoot the others with the "space" button. Use the turbo by clicking "X" to increase your speed. You are going to find many boosters on the way to help you survive in this crazy chase. As you progress in the game, collect as many gems as possible, and use them to upgrade your car or buy new gadgets and bombs. As you save your teammates, you can choose any of them to continue to play. At the beginning of each level, don't forget to spin the wheel! Good luck!
If you want to try another following adventure of this popular series, you can check Car Eats Car: Dungeon Adventure.
Developer
SMOKOKO LTD developed this game.
Release Date
April 28, 2020
Features
20 different adventures to go
One bonus level to unlock
Multiple boosters to upgrade
Weapon and gadget upgrades
Controls
Use up arrow to go forward, down arrow to hold on. Left and right arrows to balance the car. You can also use WASD keys to move too. Use the SPACE BAR to drop bombs, X or the LEFT SHIFT keys to activate your turbo speed.