Car Eats Car: Dungeon Adventure
Play Now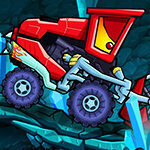 In Car Eats Car: Dungeon Adventure, it's time to visit the underground caverns and dungeons with your vehicles. Pits, traps and vicious enemies are waiting for you in this installment of the popular series. Do you have what it takes to complete all these challenging levels, and defeat your enemies?
The ground opened, and you fell down to the dungeons beneath. With so many enemies and dangerous vehicles riding around, it'll be a challenge to go back to the surface. Your objective in this game is to complete levels by reaching the end in each of them. You can use the WASD or the arrow keys to control your vehicle. Killing enemies you encounter will give you extra points. Try to collect red gems you see around. You can use these to upgrade your stats and buy gadgets. If you die during the level, you'll have to start from the beginning of it. Drop bombs to kill your enemies and avoid obstacles by using the turbo boost. Have fun playing!
Do you enjoy playing around with cars? If so, be sure to check our collection of free online car games. Enjoy!
Developer
SMOKOKO LTD developed Car Eats Car: Dungeon Adventure.
Release Date
November 28, 2019
Features
Colorful 2D graphics
Lots of levels to complete
Intuitive controls
Entertaining gameplay
5 different gadgets that you can unlock and use
5 different bomb types to use
Controls
Use the arrow keys or the WASD keys to move your vehicle. Press the X key for turbo and the SPACE BAR to throw bombs.