Play Now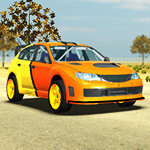 Cars Driver is so for you whether you like cruising around town or performing extreme stunts! Featuring various maps and multiple car options, you can be a legend of the racing world! Step on the gas and accelerate your speed fearlessly to invade the tracks! Do you have enough courage to take all the high ramps and overcome the obstacles on the roads?
Welcome to a driving adventure with no limits to bore you! The only objective of this fun racing game is you have a great time while you are conquering all the areas with exciting stunts! When the game is opened, start by selecting your map among 3 options and pass to choose your car. You can travel through open highways or conquer the rough terrains. Use the arrow keys or WASD keys to move your car. Not satisfied with your current car? Change it by pressing the "1, 2, 3" keys on your keyboard. If you say the speed is not good enough for you, press the "Shift" button to activate the speed boost. You can rotate your camera anytime you want by pressing the "C" key. To change the landscape from the main menu, pressing the "TAB" is enough! Good luck and have fun!
Be sure to check our collection of online and free racing games to perform more stunts and drifts or even challenge the other opponents!
Developer
No Branding developed Cars Driver.
Release Date
January 15, 2020
Features
3D colorful graphics
3 map options to select
3 cars to drive
Intuitive controls
Controls
WASD or the arrow keys to drive. SPACE BAR for the hand brakes. The SHIFT key to activate nitro power. The 1, 2, and 3 numerals to change your current car. "C" key to rotate the camera. "R" key to reset the scene. "E" key to turn on the police lights.