Play Now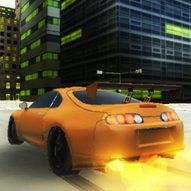 In Supra Drift 3D, all the roads in this big city are all yours! Hop onto your legendary Toyota Supra and buckle up because you're about the experience this city freely. Customize your car and enjoy the luxurious and comfortable free drive. Make sure the drive will be memorable. Now, get on the seat and be ready to discover this exciting city!
In this amazing game, you can drive as craziest as you can get with your dream car. The roads are all empty, and no residence is out to distract you. The objective of this game is all up to you! All you are supposed to do is getting in your car and drive it the way you want without worrying about speed, gas, or anything else! First, choose the body kit for your car, and then decide its color. You can drive by using your keyboard arrows. You can change the angle of the view by pressing the C key and choose 1 of the 4 options. Click on the setting button situated at the left top of the screen to customize nearly all the features of your car to feel like you are driving in real life. If you are ready for this adrenaline, let the game begin!
If you want to add some stunts next to your amazing drifts, then be sure to check Supra Drift & Stunt.
Developer
Smartline-Games developed this game.
Release Date
November 15, 2019
Features
3D driving simulation
Car customization
Car modifying
Entertaining and addictive gameplay
Controls
Arrow keys or the WASD keys to drive around. SPACE BAR to use your handbrake, and G to toggle slow motion on/off. The L key to turn on and off your car's lights. The Q, E, and Z keys are for turning indicators on/off. The R key to record your gameplay and the P to play it.