Play Now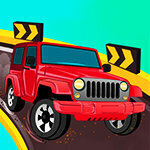 With Dangerous Speedway Cars, get ready for a brand-new colorful driving experience! If you are keen on dangerous hurdle races, your only opponent is yourself! Challenge yourself to finish these tracks as fast as possible and break your own records! Of course, you need to complete some tasks to prove that you are a good driver! If you are ready now, fasten your seatbelt and hit the road!
Hold on tight because you are about to experience a new kind of racing game! Instead of speed, focusing and stability are a great deal in this game. To reach the final point and complete the level, you need to lose no time. First, select your unlocked car and start to pass the levels. As long as you complete the tasks given before each level, next to the chosen car, you receive crates at the end of the level. With those crates, you can unlock more car options, body kits, and other features of many cars. Use your keyboard arrows r WASD keys to move your vehicle. As long as you drive on the checkpoints, you start from there if you fall down and fail. Use your mouse to rotate the camera if you need to. Good luck and have fun!
If you want to try another racing game in which you can challenge yourself like this one, then be sure to check RX7 Drift 3D
Developer
Robert Alsin developed Dangerous Speedway Cars.
Release Date
March 3, 2020
Features
3D colorful graphics
Multiple car options to unlock
50 levels to pass
Entertaining and addictive gameplay
Controls
The left and right arrows to move the car around. The up arrow to go forward and the down arrow to go back. Or you can use WASD keys.