Play Now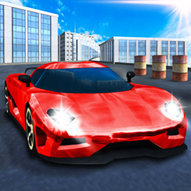 City Car Stunt 2 is no for slow drivers, but for the ones who have no speed limits! In this exciting two-player racing game, you've got to put the Pedal to the Metal. With the most challenging roads specially designed for the best drivers, get ready to race against the time or your opponent. Choose one of the outstanding sports cars with the skin you prefer and become the knight of the roads! Fasten your seatbelt now and start the game!
Are you ready to conquer the roads by showing off your racing skills? Apart from roads with cliffs on both sides and high circular ramps, another big challenge is the time limit for each race! This fun racing game composes of 3 gaming modes. These are single-player, two-player, and free driving. If you enjoy challenging yourself in a limited time, choose the first option. But if you want to invite a friend and make a competition out of it, choose the second option. To practice your stunts and get to know the area better, you can start with the third option. In free driving, you will face no obstacles or time limits. As you progress in the game and pass to the following levels, you will be unlocking other cars. Choose one of the skins for each level. You can start the game as many times as you want. Good luck and have fun!
You can check our collection of free and online racing games to browse more racing games with many different vehicles!
Developer
RHM Interactive developed City Car Stunt 2.
Release Date
December 31, 2019
Features
3 game modes to enjoy
3D colorful graphics
7 cars with different skin options
Time limit
Controls
Left and right arrows to move the car around, up arrow to go forward, and down arrow to go back.