Play Now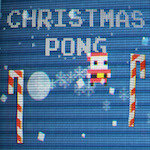 In Christmas Pong, it is time to spread this new year spirit even to an arcade skill game! What is more fun than challenging your opponent with an old fashion play screen decked out with delicious candy canes and snowy winter background and a chubby Santa? Either against a friend or CPU, let's find out what this game will bring you this year!
Whether it's the beginning of Christmas today or months to come, let its excitement and games accompany us! Although not much different from other pong games, your objective in this fun game is to score 3 points by hitting the Santa with your candy cane to beat your opponent. You can invite a friend to play against you or if you prefer to play solo, you can compete against the CPU. Use your up and down arrows to move the candy cane if you play solo. If you choose the two-player option from the main menu, the other player can use the "W" and "S" keys. The points are written at the top of the screen. Play as many times as you want because it is an endless adventure to enjoy! May the Christmas spirit be with you during the game!
You should check our collection of free and online skill games to have more quality time while testing your skills.
Developer
Azerion developed Christmas Pong.
Release Date
December 13, 2017
Features
2D colorful graphics
Two-player or solo options
Intuitive controls
Endless pong adventure to enjoy
Controls
The up and down arrows to control the candy cane. The second player can use the "W" and "S" keys.