Play Now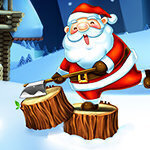 In Christmas Tree Fun, Santa is out there cutting wood for the fire and the toys. Getting so focused on his work, he's not aware of the dangers that might happen in the life of a lumberjack, so he needs your help. Can you help him cut as many woods as he can without hurting himself?
The axe might be sharp, but that won't be a problem if you know how to hold it. Your objective in this game is to help Santa cut wood without hitting branches. That'd be bad for his health, and Mrs. Claus is waiting for him. You can start the game by hitting the play button on the main menu. When you start, you'll see Santa standing beside a tree. To start chopping, click on the left or right side of the screen. Watch out for branches! Hitting those ends the game, and you'll have to start from the beginning. When you lose, you can see your last and best score. You can unlock 2 more characters as you earn points. Click on the button in the bottom right corner of the screen to visit the shop. Each character has a certain score requirement, so try to unlock them all! Enjoy!
Join Santa in his another adventure in our popular title Rocket Santa, by clicking here. Have fun!
Developer
MarketJS developed Christmas Tree Fun.
Release Date
November 22, 2019
Features
Colorful 2D graphics
3 different characters to unlock and play with
Intuitive controls
Entertaining and addictive gameplay
Controls
You can use your mouse to play this game.