Play Now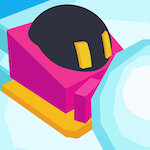 In Snowball.io, you can bring the winter in your house without getting cold! Join the other players in the amazing and competitive multiplayer gameplay of this game, and challenge them to become the best one! Start rolling your snowball!
It might not be winter, but that doesn't mean you can't play with snow! Your objective in this snowy and chilly game world is to form the biggest snowball, and then launch it to other players to knock them off of the platform you are all competing on! To move around, press and hold your left mouse button. As you move, you'll gather snow and form a snowball in front of you. Your snowball gets bigger as time pass. Release the left mouse button to launch it to another player to throw them off of the platform, once it reaches a big enough size. Other players are also trying to knock you off so you should be cautious. You should also be careful about the platform you're moving on. It's made of ice and snow and will start to melt away. This will leave a small surface for you and others to move on! Trust your reflexes, dodge other snowballs with quick moves, and try to become the last standing player on the platform.
We have many popular games of this genre here at Yepi! Take a look at our collection of free .io games for more competitive titles! Have fun!
Developer
Tokyo made this game.
Release Date
September 2018
Features
Many characters to choose from
Tournaments
Multiplayer online gameplay
3D graphics
Controls
Use your mouse to play the game.