Play Now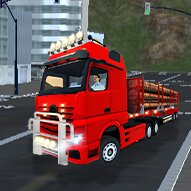 In City Truck Driver, you're about to embark on a fantastic simulator journey with your trucks in the heart of a thriving city! Let's step inside the truck and begin our adventure! Have fun!
Thousands of features await you in this truck simulator game, including vehicle customization choices, mission mode, racing mode, and free drive mode. There are thirteen distinct truck models, each with its unique qualities in terms of handling, speed, and acceleration. If you want to improve your vehicle or buy a new one, you'll have to play in missions or racing mode. You must accomplish ten tasks and ten races. You use your trailer to move stuff from one spot to another in mission mode. You should be careful when transporting the items. You may find it by following the arrow to the location where you should pick it up. Make sure you get to the finish line before the time runs out. In racing mode, you will compete against five opponents on the city track, and to get the reward, you must finish the races in the first three. Attempt to beat your opponents to the finish line. Race mode and free drive mode are available in single player and two player modes. Let's get this incredible truck simulator started! Have fun!
Do you want to play more games like this one? If so, take the different challenges in our collection of free and online car games.
Developer
RHM Interactive developed City Truck Driver.
Release Date
November 3, 2021
Features
3D graphics
3 different modes
Intuitive controls
Entertaining gameplay
Controls
1 Player Game Mode: Move: "W,A,S,D" or "ARROW KEYS" Handbrake: "SPACE" Camera mode Switch: "C" Connect/Detach trailer: "T" 2 Player Game Mode: Player 1: Move: "W,A,S,D" Handbrake: "SPACE" Camera mode switch: "C" Player 2: Move: "ARROW KEYS" Handbrake: "J" Camera mode switch: "B''