Play Now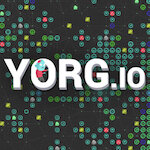 In YORG.io, get ready to build a civilization and defend it against zombies! Everything looks beautiful during the day, but things start to creep around when the night falls. Can you build the most advanced civilization by collecting resources and getting rid of enemies?
Dotted with various resource nodes, this map is huge and has all the space for you to expand your influence. Your objective in this game is to expand your civilization and keep it standing as long as you can. This might sound easy at first, but zombies and ghosts are lurking in the shadows, waiting for the sun to go down to launch on assault on you. To start the game, enter a nickname for yourself, so you can track your score from the leaderboard, pick one of the 6 difficulty levels, and click on the play button. If you want to get familiar with the controls and the mechanics, you can play the tutorial first. Crystals are the main currency in this game, and you use them to upgrade your buildings. Place appropriate buildings around resource nodes to gather them, add defenses such as cannons and lightning towers, and add roads to connect everything to each other! When night comes, you'll be attacked. Your damaged buildings will repair themselves during the day, so bolster your defenses and conquer the map! Can you become the player with the highest score?
Check our collection of other online strategy games for more fun titles like this! Enjoy!
Developer
Tobias Springer developed Yorg.io.
Release Date
May 23, 2019
Features
Colorful 2D graphics
Highly addictive gameplay
Different buildings to place on map
Can upgrade your buildings
Intuitive controls
Different skills to unlock
6 different difficulty levels
Controls
You can use your mouse to play this game.