Play Now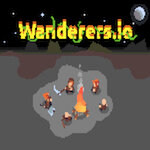 In Wanderers.io, you better train your units and collect as many resources as you can, because you'll be facing other tribes controlled by other players. Guide your people to victory as their deity, and make sure to become the most powerful tribe on the map! Can you win each battle and emerge victorious?
Standing idle on the map, your people need your guidance! The objective of this game is to become the most powerful tribe and have the most points. You can play the game with your mouse, so click on the start button on the main menu to begin your journey. Before heading into the world, give a name to your tribe and check the tutorial section if you want to get familiar with the game controls and mechanics. Pick a game mode, and you're ready to go. You have 3 different resources in this game. These are food, gold, and wood. You collect each one by hunting, mining, and by cutting trees, respectively. You can also loot your enemies for resources. Move your totem with your mouse to make your units follow you. Stop at meadows to collect resources, and watch out for enemy tribes. You can join your forces with ally tribes and become even stronger! Have fun playing!
Challenge other players and try to dominate the map in our other popular free and online .io games. Enjoy the competition, and don't forget to check our other collections for more!
Developer
Rezoner developed Wanderers.io.
Release Date
December 22, 2017
Features
Online multiplayer gameplay
Colorful and pixelated 2D graphics
Can create different units
2 different game modes
Different resources to collect
Intuitive controls
Controls
You can use your mouse to play this game.