Play Now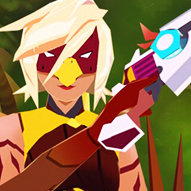 In Knights of Fortune, get ready for combat, warriors! In this 3v3 brawler game, you'll experience epic battles and have an adventure of a lifetime. Are you prepared to travel back to medieval times with your team to give your enemies a taste of your blade?
The time has come to prove your valor. Are you going to shy away from battle or let adventure sweep you off your feet? The first thing we should is to choose a character. Are you going to choose Nahum, a fierce warrior whose enemies tremble at the mere sight of him? Or Wilmarth, who may look small and old, but would kill anyone who dares stand between him and the crystals! Choose one of the many options and enter the arena with your friends. Your objective is to defeat your foes and capture as many crystals as you can. Try to capture 3 crystals to win immediately. But you should beware! The other team will also try to capture the crystal and you may have to engage in team fights to win. Try to avoid their attacks to survive through the match. If you can't... Well, don't worry! You will be remembered forever. Create an account if you want to save your progress and fight more challenging battles! Get ready to sharpen your sword to take your place at the top of the leaderboard!
If you enjoy the thrill of the battle, play Eternal Fury and face your enemies.
Developer
Developed by Flying Sheep Studios.
Release Date
August 26, 2020
Features
Cool graphics
Fun and challenging gameplay
Intuitive controls
3v3 multiplayer gameplay
Controls
WASD to move. Q and E to use a skill. Left mouse button to attack.