Play Now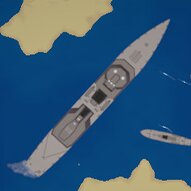 Mk48.io is a thrilling naval combat game in which you are competing against players from all around the world! It's a combat field, and you must take control of your ship to avoid all the attacks of your enemies. Only one of you will get the victory, and the others will sink very badly to the ground. If you are ready for this sea war now, then let this thrill begin once and for all!
Welcome to the biggest naval combat of your life! There is going to be only one survivor at the end. Take the command of your ship and terrorize all the other players with your torpedoes! Before you step into the battle area, you should choose one of the 5 ships and write your nickname so that all the other players will know you. You can also change the game language from the right bottom of the screen. When you first start, you will have a small ship, but you can enlarge and improve it by gaining points. Consume the crates, take down your enemies and increase your score! As you progress, you can respawn your ship as well. Don't forget to track the "All-time Leaderboard", "Weekly Leaderboard", and "Daily Leaderboard" to see your name! May the best commander wins!
What about setting fire to all the other players from all around the world with your coolest aircraft this time? If you are with us, then be sure to check Airplan.io by clicking here.
Developer
Softbear Studios developed.
Release Date
June 30, 2021
Features
Naval combat simulation with 3D graphics
Competing against other players
Leaderboards to track
Online chatting
Controls
Left click and hold outside your ship's inner ring. Right-click and hold outside your ship's inner ring. Tap and hold outside your ship's inner ring. The WASD or arrow keys to move, and "X" key to stop.