Play Now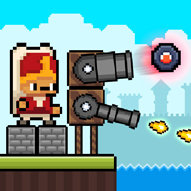 In Janissary Tower, it's time to rain down bombs on the enemy towers! In this two-player game, the flames of war are upon you, janissary! And the one who is responsible for this is none other than your friend! Are you ready to fight your frenemy and take him down for the good of your land?
Do you hear that? Your enemies have started bombing your city. But what to do now? Is there no one to stop this evil? Your objective is to defend your tower from the enemy attacks. The red player can use WAD keys and the blue player can use the arrows to move around. To start the bombing, stand next to your cannons. But, wait a minute! Who is that person in the spaceship and what is he doing? Oh, look! He's giving you cannonballs because you ran out of them. You can see how many cannonballs you have left in the bottom left corner of the screen. Your health bar is also there so keep an eye on it! The spaceship will also give additional weapons that can be used against the other side. So be sure to get them before your friend does. We should warn you, though. The spaceship is only helping you because he wants you two to take each other down. He'll also start bombing you later on. But you can destroy the machine by adjusting the cannons. Try to defend your tower against the enemy attacks in all the levels. We put our faith in you, soldier!
If you want to play more games like this, check out our category of online action games to browse more titles. Enjoy!
Developer
Developed by RHM Interactive.
Release Date
February 6, 2020
Features
Different levels to complete
Two-player game
Engaging gameplay
Nice graphics
Controls
WAD or arrow keys to move and shoot.