Play Now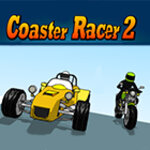 In Coaster Racer 2, get ready to race against various opponents and claim the victory. Featuring multiple race tracks and different challenges, you can test your driving skills in this addictive and exciting game. Jump into your vehicle, take your place at the starting point, and floor the gas. Can you finish each race in the first place and show your rivals that you're the best?
Your objective in this game is to complete each race in the best position as you can. Before starting the game, enter a name for your character so you can keep track of your position on the leaderboard. Then, pick a difficulty level. This game features 10 different races, and each race has 2 different challenges that you can play. Only the first race is available at the beginning, and you unlock the rest as you play. When you start the game, try your best to stay on track and maintain your speed. You'll build up your nitro boost as you drive, so don't forget to use it. Collect money icons for cash, so you can upgrade the stats of your car. You can either use a bike or a car to race. Good luck!
If you enjoyed playing this game, then be sure to check the first title of the series Coaster Racer, by clicking here. Have fun!
Developer
Long Animals developed Coaster Racer 2.
Features
10 different races each with 2 different challenges
5 different stats that you can upgrade
You can pick a car or a bike to race
Intuitive controls
10 different achievements to earn
3 different difficulty levels
Controls
You can use the arrow keys to control your vehicle. Press the Z key for freestyle driving and the X key to activate your nitro boost.