Play Now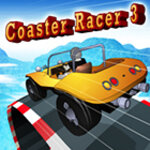 In Coaster Racer 3, it's time to show your opponents neither them or the challenging tracks can stop you! Jump onto your vehicle, wear your helmet, keep your eyes on the sharp turns, and do your best to win each race. Do you have what it takes to break a record and leave everyone in awe?
Only the fastest driver can win this game, so you better floor the gas! The objective of this game is to win each race by meeting the requirements. Start the game by clicking on the play button on the main menu. You begin the game with no upgrades on your car, so you better make some money by winning the races. Each race has a different requirement you have to meet to win. In some, it'll be enough to finish the race in the first 10, but sometimes, you must be in the first 3 to progress. Winning races rewards you with money. You can spend these to unlock and buy upgrades from the in-game shop to make your vehicles more powerful and fast. Good luck!
If you're looking for more challenges, then go ahead and browse our collection of free and online racing games. Have fun playing!
Developer
LongAnimals developed Coaster Racer 3.
Release Date
Features
6 different stats that you can unlock and upgrade
3 different vehicles to use
Intuitive controls
16 different levels to complete
Entertaining gameplay
14 different achievements to earn
Controls
Use the WASD or the arrow keys to control your car. Press the Z/X or the N/M keys to use your nitro boost when the meter is full.