Play Now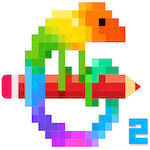 In Pixel Art 2, let go of your paintbrush, and grab your mouse. We'll be creating masterpieces with pixels. Painting and coloring are great ways to relax your mind after a long day at school and work, and this game provides just that. A relaxing gameplay experience! Are you ready to delve into the pixelated and colorful world of this game?
Don't expect to use brush strokes or other painting techniques in this game. You'll bring color to each image step by step, one by one. You don't need to be an artist to play this game as the only thing you need is your mouse. To start, click on an image. There are over 100 hundred options that you can choose from. After picking an image, you can start. At the bottom of the screen, you can see the colors you'll be using on the picture you choose. You can apply them in numerical order, or select the ones you want. Once you click on a color, the part where it goes on the image will turn dark. Click on each pixel to color them, and when you're done you can share the final result with others. Can you color all of the images in the game?
There are other ways to play with paint, and not all of them have to be relaxing. Join the action in our popular title Xtreme: Paintball Wars, and cover your opponents in colors! Enjoy!
Developer
Vseigru.net developed Pixel Art 2.
Features
Over 100 different images to pick from
Colorful 2D graphics
Lots of different colors to use
Intuitive controls
Entertaining and relaxing gameplay
Controls
You can use your mouse to play this game.