Play Now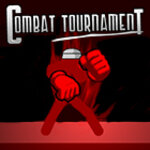 In Combat Tournament, pick a character and get ready to beat anyone who dares to challenge you to a fight. Equipped with deadly fighting skills and weapons, you're here to prove that you're the best. Can you complete all the levels and show your opponents not to mess with you in the future?
Swords and fists are out! May the best warrior win the tournament. Your objective in this game is to complete each level and win the tournament. To start, pick a difficulty level from the main menu. Then, choose a character from 3 different options. Each character has their own set of attacks. After that, you can select a level. If you want to get familiar with the gameplay mechanics and controls, then you should start with the tutorial first. To pass a level, you must defeat your opponent a certain amount of times. You can check the target in the bottom right corner of the screen. Your health and special attack meter are located in the top left corner. When your special attack meter is full, you can use it and unleash your fury on your enemy. This gives them great damage. Good luck!
Beat your opponents and survive through waves of enemies in our other exciting and wildly popular game, Stickman Fighter: Epic Battles. Have fun!
Developer
Ongokiller50 (Dennes Tejada) developed Combat Tournament.
Features
Colorful 2D graphics
2 different difficult modes
3 different characters to choose from
14 levels to complete
Controls
Use the arrow keys to move around. Press the SPACE BAR to jump. Press the S key for special attack, and the A key for normal attack. Press the D key to roll while moving.