Stickman Fighter: Epic Battles
Play Now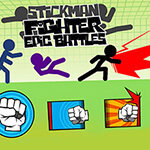 In Stickman Fighter: Epic Battles, get ready to join an epic battle in which only the deadly punches and quick kicks talk! Action is the keystone of this thrilling game and you are just about the begin this adventure! Take control of your stickman and hit the opponents like a ton of bricks! Prepare your fists and get your feet on the ground to have your name written in gold letters!
This fight ain't an easy one! You must gather all your power and master all martial arts moves to defeat your enemies. The objective of the game is to beat every stickman coming to attack you and become the only fighter standing. Use your left and right arrow keys to punch and kick. Your enemies will be attacking from both sides. So, you only have yourself to have your back! You must be as quick as a storm to repulse the attacks. Your life bar is situated at the bottom of the screen and when it finishes, you will be dead. You will be receiving other weapons during the game, but you don't have to do anything new to be able to use them. After succeeding in a fight, you get coins, and you can use your earnings to unlock new weapons and upgrade the stats. Good luck and have fun!
Be sure to check our collection of free and online action games to browse more fun titles like this game.
Developer
Playtouch developed this game.
Release Date
January 29, 2018
Features
2D colorful graphics
40 levels to fight
Different weapons to use
Multiple stats to upgrade
Controls
You can use the left and right arrows to kick and punch.