Desert Festival Stay Home
Play Now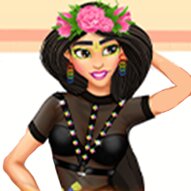 Help our princesses get ready in Desert Festival Stay Home! The most beautiful of the most popular princesses are here. They have been dreaming of the famous desert festival but it is unfortunately canceled this year. So, you should help them find their motivation back. Can you handle this fun yet important task?
In this fun game, you should get our three princesses back on track by helping them find their motivation. The festival might be canceled, but this doesn't mean they won't enjoy themselves at home. They can still rock their festival outfits and break the internet with their poses through social media. Now, start with our first princess and get them ready one by one. You are free to choose their make-up, dresses, accessories, and even the background for their pics. They all have a unique style that makes each of them shine. So, give a hand to these beautiful princesses to make them look even more amazing for the stay-at-home festival!
If you enjoyed giving a hand to get these princesses to dress up, you should check out Besties Paris Trip and have fun styling other characters, too!
Developer
Unify Media Inc. developed Desert Festival Stay Home.
Release Date
October 21, 2021
Features
2D colorful graphics
Variety of clothes and accessories
Fun gameplay
Special festival make-up and clothes
Controls
You can use your mouse to choose options.