Play Now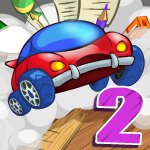 In Desktop Racing 2, empty the surface of the desks and tables, because a small but exciting race is about to take place. Normally, big and real cars take part in races, but in this game, you'll be taking control of toy cars! As everyday objects such as pencils and books become you obstacles, can you complete all the levels in this game?
The tables might still be a little messy, but the everyday objects will be great obstacles to test your driving skills! The objective of this game is to complete each level by reaching the finish line as you try to complete the tasks given to you in the beginning. To start the game, click on the play button on the main menu, and pick a slot to save your game. Next, you'll see the level selection screen. The game features 25 levels in total, but only the first level is available in the beginning. You can unlock the rest as you play. In every 4th level, you have to race with other cars, while the last level is the great race. Complete tasks to collect coins, so you can use those to upgrade your stats and even unlock new cars! Have fun!
Looking for another ride but a bit more extraordinary? Then try our game Potty Racers. Enjoy!
Developer
Azerion developed Desktop Racing 2.
Release Date
June 26, 2019
Features
25 levels to complete
Colorful 2D graphics
Different tasks to complete on each level
An in-game shop to buy upgrades
Intuitive controls
Entertaining gameplay
4 different cars that you can drive
7 different trophies that you can win
Controls
You can use the arrow keys to control your vehicle. Press the X key to use turbo boost and the SPACE BAR key to jump.