Play Now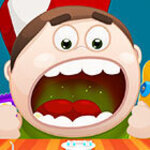 Doctor Teeth is inviting you to make your dream job come true! You are the best dentist in the town. And obviously, everyone loves eating sweets here because your doorbell never stops ringing. You have various ranges of patients, from little boys to different animals. Can you help them get rid of their dental problems for good?
Make sure you had enough sleep last night because today is going to be a really busy day! You need to realize several operations starting with a simple toothbrushing process to pulling out and filling the teeth. Each patient has different problems of course, but you should acquire each operation successfully to pass to the other patients. Not only you gotta be fixing the dental problems, but also you will be racing against time! When you take your first patient into the room, check the steps and orders from the tasks button at the right top of the screen. Don't forget to see your remaining time at the left top of the screen either! The sooner you finish your job, the more stars you will get at the end of the level. As you progress in the game, the number of the given tasks will increase. Good luck and have fun playing!
If you want to try a more intense dental operation this time, then be sure to check Funny Throat Surgery by clicking here.
Developer
Mini Duck developed this game.
Release Date
January 2017
Features
3D colorful graphics
Various dental operations to realize
Different patients to treat
Racing against time
Controls
You can play this game with your mouse.