Play Now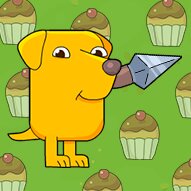 With Dogod.io, get ready to become the new god of the dogs! You can control all the life and death happening around here. It is not going to be easy because your opponents are as talented as you are. You should show no mercy and eliminate them all. You will be facing real players from all around the world of all ages here. Be careful! If they get from the back, you die! Get your weapons now and enter the area in no time!
Let the competition begins! You are in a big area with all the other candidates who wish to be the new dog god as much as you do. But only one of you can become the dog god. Will it be you? We will figure it out soon! In this fun io game, your objective is to eliminate all the other players and become the only dog surviving. Since your opponents are real players, winning the game won't be easy. Try to touch them from the front with your weapon. The one whose weapon touches the other first survives. If you get eliminated, you can wait a few seconds and restart your battle again. Each kill helps you complete the achievements. As you complete the achievements, you can unlock the treasure chests and use your earnings to buy new skins, accessories, animals, and hats. May the best win the competition!
If you are seeking more victories against other real players from all around the world, you can check our collection of free and online IO games by clicking here.
Developer
Grinding Games developed this game.
Release Date
June 21, 2021
Features
2D colorful graphics
Treasure chests to claim
Skins and accessories to unlock
Entertaining and engaging gameplay
Controls
You can use your mouse to play this game.