Play Now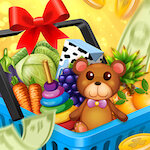 In Supermarket Mania, one of the most adventurous supermarkets in the world awaits you! So many levels, so many possibilities! This market promises you a fun time and also manages to educate you at the same time! Are you ready to explore this place?
When you walk into a supermarket, there's really not that much to do! You take what you need and leave. But here, you get to try much more. In this game, your objective is to complete each level and delve into the colorful world of this place. There are 6 different modes to try. In shopping mode, buy the items that you need. We have everything from food to clothes! In classification mode, a clumsy person has knocked down the fruit baskets and you have to put them back to their right place. In fruit slice, it's time to have some fun! Slice as many fruits as you can before the time ends. Oh, wait just a minute! What's this mess? In room clean up you have to mop the floor and throw away the trash. Oh, I can hear you saying "I've had enough of this". You're right. It's time to fill our tummies. In food maker, prepare delicious sweets. Can't get enough of playing? Try our final mode, food collecting and collect the ingredients before the time ends!
If you enjoyed playing the fruit slice mode, we have some good news for you! Play Fruit Master now and start cutting the fruits into two halves!
Developer
Developed by BubbleBee.
Features
Nice graphics
Many different levels to play
Fun gameplay
Simple controls
Controls
Use your mouse to play this game.