Play Now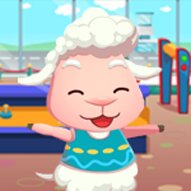 In Funny Travelling Airport, it is time to take the most amazing and fun vacation ever! What could be better than a few days away, especially after a quarantine? We notice that you agree with us as well! You're ready to go on the trip if you've packed your belongings. Don't worry, these adorable animal employees will accompany you throughout the process. Have you made up your mind about where you want to go first? If so, let's fly now!
Isn't now the ideal time to make vacation plans? How excited are you to visit new places, learn about new cultures, and meet new people? However, one of the most crucial stages is the journey. Is this your first time flying? Don't be worried. This entertaining game will teach you everything you need to know about the process. These animal companions are also ready to plan a vacation. Join them at the airport, and your journey will go off without a hassle! To begin this adventure, press the play button first. Follow the guidance arrows because they show you what to do. Click or tap on the items when they are shown by the arrows. You may need to swipe your finger or drag the mouse for some works. Make sure everything goes well, and our visitors land their holiday location safe and sound. If you are ready now, let's jump into the game right away! Have fun!
Do you want to play more games like this one? If so, take the different challenges in our collection of free and online kids games.
Developer
iclickgames developed Funny Travelling Airport.
Release Date
July 22, 2021
Features
2D colorful graphics
3 fun stages to complete
Cute characters and a backstory
Educational and engaging gameplay
Controls
You can use your mouse or the touch controls to play this game.