Play Now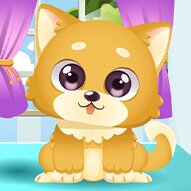 Meet your new best friend and help it heal with Funny Puppy Care! A furry baby was wounded and stuck in tar until you came along and saved its life! Now it's time to give it a bath, clean its wounds, and dress it up in cute baby clothes!
Having a pet comes with crucial responsibilities like feeding or keeping your little friend clean. Also, there might be some exceptional health issues sometimes. This emergency is one of them. This baby was found outside in poor shape, and it needs urgent help. You can start by bathing it to see its wounds clearly, and then move on to the healing part. Use some soap to remove the tar and rinse the fur. Shave the dirty locks of hair, and now you can use the healing spray on the bald spots and painful cuts. There is still a sore spot on the poor baby's leg that needs immediate attention. Apply the healing drop on its eyes first, and now you can work on the broken leg. Fix the shattered bone, vaccinate the baby and feed it. Now you can clothe your adorable friend, play games, and solve puzzles together!
If you like helping animals and playing with them, you can check out Paw Care, and specialize in paws!
Developer
iclickgames developed Funny Puppy Care.
Release Date
May 11, 2022
Features
Adorable character design
Family-friendly
Detailed pet care
Easy to play
Available on mobile devices
Controls
You can use your mouse to play this game.