Play Now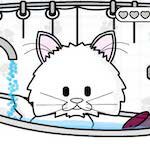 In Pet Salon Kitty Care, the little and cute kittens of your neighborhood need to be taken care of. With your pet care clinic, you're the best person to do that, so open your doors and accept your fluffy and purring clients. Can you take care of each of these lovely felines?
Cats may be independent, but that doesn't mean they don't enjoy the company of humans! They know you're here to help them, so let's begin. The objective of this game is to take care of each kitten at your pet care clinic. Some believe handling cats are difficult but with the simple controls of this game, taking care of these cute animals is as simple as clicking on the screen! You can play this game with your mouse. To start, click on the computer on your desk and choose the correct kitten. You'll have to complete different stages on each cat to take care of them. First, give them a nice bubbly and warm bath to get rid of any dirt on their fur. A wet kitten is an unhappy kitten, so you should dry them on the next stage. Hen your cat is dry and happy, you can use different accessories to make them look amazing on the last stage. Pick a hat, glasses, and a collar to finalize their look. You can also change the color of their fur! When done, take a photo to add to your cute clients' album!
Play with princesses, cute animals, and more in our other titles listed under our collection of free and online girl games.
Features
Colorful 2D graphics
8 different cute kittens to take care of
Variety of different accessories to use
Simple controls
Controls
You can use your mouse to play this game.