Play Now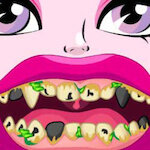 In Dracula Bad Teeth, get ready to recreate this cute monster from tooth to toe! Like everybody else, blood-sucking monsters can have troubles with their teeth as well. As the doctor and stylist of all good and bad supernatural beings, it is your job to fix Dracula's dental health and give her a brand-new style! Now, let's see what you can do to achieve the best look!
As if dental health wasn't a problem enough, and this monster girl needs a good style. She is suffering from the results of eating way too many sweets and treats lately. As the best dentist and stylist of all times, you should help her to recover from tooth decay and unhealthy gum. Use the equipment given at the bottom of the screen in the correct order. When you are done with the given pieces of equipment, click on the next button situated right belove the tools to pass to the next session. Start from brushing her teeth and never forget to give water to gargle! Once she is done with her teeth problems, you can give color and stickers to her each tooth to add a more fashionable look. At last, you should choose the best outfit for her before she meets with her friends. At the end of the game, you won't believe what a miracle you have made!
If you want to show your great medical skills, you can call your next patient into the room by clicking Vampire Nose Doctor.
Developer
Dress Up Who developed this game.
Features
2D colorful graphics
Various tools to use
Dress-up section
Entertaining and addictive gameplay
Controls
You can play this game with your mouse.