Play Now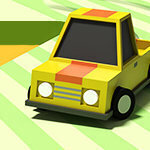 In Drift Boss, sit on the driver's seat, and get ready to show your amazing driving skills. Driving on a regular city road offers no challenges, but the track in this game is something else. Keep your hands on the steering wheel, and try not to fall down!
Driving in a straight line is easy, but what about drifting at turns? Your objective in this game is to drive as far as you can without falling down. While driving a car on a track as challenging as the one in this game might be hard in real life, the controls of this game make it pretty simple. You can use your mouse to play the game. At the main menu, you can pick a car before starting. In the beginning, only one of the eight cars is available. You can unlock the others by spending the coins you earned during gameplay. Once ready, click on the play button to start. Click on the screen, or press the SPACE BAR to make your car turn. Be careful though! It'll drift, so you should time your click carefully, or you'll fall. Good luck!
For more games like this one, be sure to check our collection page of online car games. Have fun playing!
Developer
MarketJS developed Drift Boss.
Release Date
November 29, 2019
Features
Colorful 3D graphics
8 different cars that you can unlock and use
Entertaining and addictive gameplay
Intuitive controls
Challenging level design
Controls
You can use your mouse or the SPACE BAR key to turn your car.