Play Now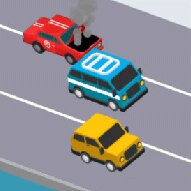 In Driver Highway, you are on your way to the highway. The good news is you can speed up like you can't do in the city. The bad news? The roads are full of cars and that makes it impossible to drive safely. Do you think you can slip past all the cars?
No matter how bad the traffic is, you can never keep a fast addict down. Even though the roads are full of cars, you can choose to live life on the edge and drive fast. If you are ready, click on the play button and put the pedal to the metal. Your objective is to drive as far as you can without hitting any cars. To control your car, you can use the up and down arrow key or swipe the car up and down with your mouse. At first, you will start out slow. If another car appears ahead of you, overtake that car and drive safely. Sometimes two cars may be at two lanes, so you always need to be careful. As you progress through the game, your car's speed will increase, and it will test your hand-eye coordination skills even more. Just how far do you think you can drive in this car game? Have fun playing!
There are more games like this one in our collection of online car games. You can check it out by clicking here. Enjoy!
Developer
July 01, 2021
Release Date
newgamess developed Driver Highway.
Features
Colorful 2D graphics
An endless level
Intuitive controls
Fun and addictive gameplay
Controls
You can use your mouse or the arrow keys to play this game.