Play Now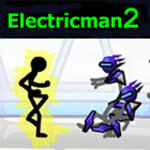 In Electric Man 2: The Tournament of Voltagen, it's time to show that you're the best fighter! With your amazing punches, kicks, and other tricks, none can stand in your way. Are you ready to defeat each one of your opponents, and climb to the top of the tournament to become the champion?
Your opponents are ready, so you should be too! The objective of this game is to complete each level by defeating your opponents without dying. Your character is skilled in martial arts. Start the game from the main menu, and get ready to attack waves of enemies. Give your character a name, choose an aura color for them, and lastly, pick a difficulty level. The first level is tutorial, in which you learn about the basic controls. After you complete it, you can start the actual tournament. After completing all four matches, a new round will be unlocked. You can see your health bar and the special attack battery meter in the top left corner of the screen. Good luck!
Do you like fighting? Then be sure to check our other popular game, Stickman Fighter: Epic Battles. Have fun!
Developer
This game is developed by DX Interactive.
Release Date
January 2007
Features
Tournament system
Action-packed gameplay
Challenging battles
Can change the color of your character's aura
Intuitive controls
Controls
Your character has various moves. Use the arrow keys for moving your character. Press the W key for a slow-motion kick move. Use the Q key slow-motion punch move. The A key is for regular punch moves while you can use the D key for grabbing and the E key for slow-motion grabbing moves.