Play Now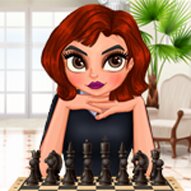 Eliza Queen of Chess, needs your assistance in order to look her best for the big tournament. Only a few hours remain till the big night. All of the well-known chess players who have had a lot of success in their careers will be present tonight. Elizabeth, one of our own, will be performing. She must project a sense of ambition and self-assurance. That is why you should assist her in preparing. Fortunately, she has a large wardrobe with a wide range of clothing. So, are you ready to go now? Then let's help her!
Eliza is a young woman with a lot of talent. She's a chess genius. She is now competing in a number of events alongside a number of geniuses. She is a successful woman, and she also enjoys dressing up. Are you able to help her in looking her best during the tournaments? Begin with the make-up application. The options are visible on both sides of the game screen. To move on to the next tool, click the arrow on the right bottom. After you've finished with the make-up, move on to the dress-up section. It's time to put her in the most beautiful outfits and accessorize her with the best matching accessories! She appears to be all set now! You can change the filter and take a photograph to capture this moment in time. You did an excellent job! Have fun!
Do you want to play more games like this one? If so, take the different challenges in our collection of free and online girls games.
Developer
DL-studio developed Eliza Queen of Chess.
Release Date
February 1, 2021
Features
2D colorful graphics
Make-up and dress-up stages to complete
Fun background and character
Engaging gameplay
Controls
You can use your mouse or the touch controls to play this game.