Elon Cars : Online Sky Stunt
Play Now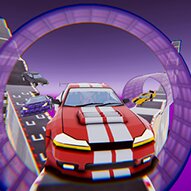 Elon Cars : Online Sky Stunt is where cars meet space technology! It is an online adventure of the most dangerous stunts pulled in the middle of the abyss. Imagine a track built high up in the sky; this is what this game provides you next to high-tech cars, adrenaline, dangerous races that require a lot of skills to survive, and online game rooms.
These races put you on a space track with four other players, but the objective is not to be the first to reach the finish line and stay there. You drive between the two ends of the map, use ramps to jump, and push other players out of the platform while trying to keep your wheels on the road. Reaching point B gives you one score, returning to point A gives you another. The first driver to reach a score of six wins the run and earns Elon Coins they can later use to decorate their car with new colors and tattoos as they wish. You have a time limit and three lives. Falling off the map costs you a life, also, you have to finish in the given time to avoid failure. Good luck in this futuristic and unusual race!
If you like online racing, you should check out Trackmania Blitz and challenge players from all around the world!
Developer
Xlab Game Studio developed Elon Cars : Online Sky Stunt.
Release Date
March 4, 2022
Features
Easy controls
Challenging racing style
Unlockable colors and tattoos
Available on mobile devices
Controls
You can use the arrow keys or "W, A, S, D" to move.