Play Now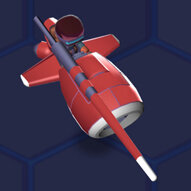 Nitro Knights is waiting for you in a merciless battle for the ultimate prize! The knight with the most pride wins this fight! You will face real foes from all around the world here. You'd better watch your back because no one is reliable. You are alone in this and you must be your only friend till it ends. If you are ready for the utmost thrill, let the battle begin!
It is time for you to show your spear skills immediately, right here, right now! As one of the most powerful knights of our platform, you must do your best to achieve the best. Your rivals will be powerful as well. Don't show mercy! When you enter the battlefield, swipe your mouse or finger to move around. To kill a foe, the tip of the spear should touch that foe. If someone touches their spear to you, you will be eliminated. At the beginning of each level, you'll see the targets. Complete that target to pass the level. You can see your lives at the top of the game screen. Collect as many stones as possible to change the color of your vehicle. You can unlock new vehicles with your kill numbers. As you complete the levels, you'll get new power-ups like nitro speed, shield, and many others. Take a deep breath and be the reason for their last breath now!
If you want to try another IO game as thrilling and honorable as this one, then don't forget to check Ev.io by clicking here!
Developer
Nikita Osyak developed this game.
Release Date
February 25, 2021
Features
3D high-quality and colorful graphics
Changing the vehicle colors
Unlocking new vehicles
Simple controls
Controls
You can swipe your mouse or finger to play this game.