Play Now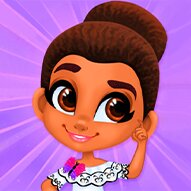 Witness the charm of self-care and pure beauty with Enchantment! Our lovely princess has been feeling off and missing her daily routine lately. You are more than welcome to join her on this ride and see the glow-up personally! Grab a mirror and a pair of tweezers and jump in!
Mira has three steps of work ahead of her: the first is a basic self-care skin routine, the second is a touch of trendy makeup, and the third is a walk to her closet. To give her the soft and clean skin to work on, we start with the first step and take off her glasses. Help her get rid of the dark circles and pimples, and fix her eyebrows. Then apply a face mask to soothe her skin, and let's move on to the vanity mirror! Choose the best blush and lipstick tones to complement her lovely skin and complete with the eyeshadow of your liking! This step also gives you exclusive earring options. Finish the final touches, and let's dress her up! Decide between fashionable skirts and shirts, pick up the right bag and shoes, and see the difference! Take a picture to compare before and after, and keep the memories!
If you like makeup and fashion, you can check out our Girls Games category by clicking here!
Developer
DL-studio developed Enchantment.
Release Date
April 21, 2022
Features
Adorable character design
Three stages
Detailed skin care and makeup
Cosmetics and clothing options
Available on mobile devices
Controls
You can use your mouse to play this game.