Play Now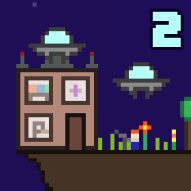 In The Final Earth 2, the year is 2142. The Earth is gone and so is most of humanity. Luckily, a small group of people managed to escape. The problem is, there is no leader among these people who can make the decisions that will determine the fate of humanity. Do you think you can step up for this role and do whatever it takes to make sure humans survive and evolve?
In a land far far away from the Earth, humans still exist even though the world is gone. Colonizing a different planet may have solved the initial problem at first, but there are other issues that need to be faced. Surviving the apocalypse was the easy part, now we need to make sure people survive in another planet. Your objective is to become their leader and grow this colony and keep thriving. First things first! There are a couple of necessary buildings that you need to erect in order to build a strong foundation for your civilization. Click on the buttons at the bottom left corner of the screen to see your options. Build houses, farms, and factories to give your people a place to live, produce food, and work. After that, you can build entertainment centers, schools, and other unique buildings to take your civilization above and beyond. You can assign workers, check how happy your people are, and how many resources you have from the bottom right corner of the screen. Enjoy!
If you are looking for more games like this one, check out our collection of online management games. Enjoy!
Developer
Florian van Strien developed The Final Earth 2.
Release Date
June 16, 2021
Features
Many different buildings to build
Fun and addictive gameplay
Different maps to play on
Nice 2D graphics
Controls
You can use your mouse to play this game.