Play Now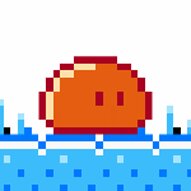 In Fireblob, it is time to ignite your fire within. Take control of a fireball and light up your world in this platform puzzle game. Featuring 28 different levels and fun gameplay, this game will lock you in front of the screen for hours of fun. Are you ready to see if you will be able to spread the fire?
Who put all the beacons out in this time of war? Suddenly the whole world has gone to dark, and your allies won't see your call for help anymore. Someone needs to light all the beacons to unite everyone and defend your land against the common enemy. Don't worry, you won't catch fire, because you are fire itself. Get ready to take control of a character on fire and complete all the levels by lighting the beacons. To control your character, you can use the left and right arrow keys or A and D keys. To jump, all you need to do is press the W key, H key, space bar, or the up-arrow key. Pass through the obstacles and reach the beacon. The moment you reach it, you will be able to light it and finish the level. Since ice and fire can't stay together for long, be careful when you are passing through the platform of ice. They will melt and you will fall to your defeat. Beware of spikes and enemies who are patrolling the platforms. Enjoy!
More platform-adventure games await you at Yepi. Play Bloo Kid 2 now! Have fun!
Developer
NoaDev developed Fireblob.
Release Date
July 05, 2021
Features
28 different levels to complete
Intuitive controls
Fun and addictive gameplay
Colorful 2D graphics
Controls
You can use the arrow keys or AD keys to control your character. H, W, space bar, or the up-arrow key to jump.