Play Now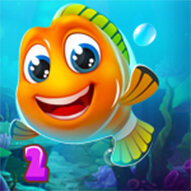 In Fishing Online 2, it is time to save our little fish thanks to your amazing puzzle solving skills! The fishes need water to stay alive, but this fish needs our help to reach the water! There are some obstacles blocking him on the way! You really need to focus and remove the correct pins to solve this puzzle and keep him alive! Good luck!
This amazing puzzle game will lock you in front of the screen for hours until you complete all the levels! Just like in its first version, your objective is to remove the correct pins with correct timing again! Once again, our little fish friend needs your help. Many difficult and deadly obstacles await our friend on this journey, preventing it from reaching the water. Water is essential for fish to survive! Drop the pins in the way you want them to go with your mouse. Keep an eye out for lavas, wild marine creatures, and a variety of other traps along the way. We don't want our friend to be exposed to lava and burned! Make smart decisions and save our friend by removing the right pins! We trust you! If you are ready, start the game and save our little fish friend! Good luck!
If you want to play more puzzle games be sure to check Fishing Online, too.
Developer
kiz10.com developed Fishing Online 2.
Release Date
May 12, 2021
Features
3D colorful graphics
Several mini levels to complete
Cute backstory and characters
Fun and engaging gameplay
Controls
You can use your mouse or finger to play this game.