Play Now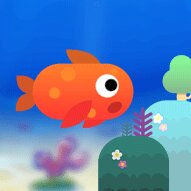 Swim your way to freedom in Fishy Trick! Big fish eats the little fish, this is the rule of nature. But you can always find a way to survive in the deep blue if you know your ways. So, now buckle up because we will have crazy fun deep underwater!
You are a cute little fish that is flipping its fins happily. But sure you are not the only fish around. Let around big fish or small fish with sharp teeth, there will be hard rocks and even huge sharks on your way when you're swimming. Your aim here is to go on swimming as much as you can while collecting beautiful stars and escaping your other fish friends. Some fish around you are friendly, so you have the chance to get them swimming next to you. But some dangerous ones are there to eliminate you, so you should dodge them. So, at this point, you need to choose your friends wisely. Apart from doing all these, you should always be on the run not to fall to the ground. Thus, you need to rapidly tap on the screen to make the fish swim. Now, prepare your fins and swim your way while collecting the shiny stars. You can unlock new and bigger fish with those, don't forget! Are you ready to see how far you can go in this underwater adventure?
If you want to play more games like Fishy Trick where you challenge your fins' limits, you should check out playing Angry Sharks here.
Developer
TapTapking.com developed Fishy Trick.
Release Date
October 22, 2021
Features
2D colorful graphics
Intuitive skills
Addictive game experience
Big and little fish everywhere!
Controls
You can tap on the left-click to swim.