Play Now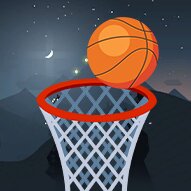 You might think your life is hard, but have you tried Flappy Dunk? Well, you should not if you have weak anger management. Do you have problems at school or work? Do your parents not understand you? No matter how many problems you have, you'd better get ready for one more because this will get a little annoying. Or could this be a new chance to work on your patience and finally explore your inner Zen?
All you have to do is click and all you can do is click. The only question is 'when?' because hardly get by the smallest of details here. There is no time to relax for now you live between rings. It is great that you did not touch the sides, but can you survive another? Extra points only mean something if you are still in the game. This simple game with simple rules will make you the angriest you have ever been, and still keep you wanting more. Your best score is your only competitor here. See how much you have improved with every new try. You will get addicted to this new love-hate relationship.
If you enjoy this game, you can try other sports games by clicking here.
Developer
OneTwoPlay BV developed Flappy Dunk.
Release Date
November 19, 2021
Features
Simple and colorful graphics with changing scenery
Easy to play
Fun and addictive gameplay
Available on mobile devices
Controls
You can use your mouse or tap on the screen of your mobile device to move the ball.