Play Now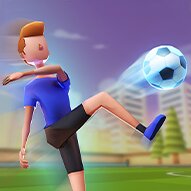 Take shots with customized footballs in the fun fields of Football Master! Discover the absurdest and most hilarious playfields, plan and draw a route, and watch the ball go! Get past other players, cars, cones, glass barricades, and other random obstacles to make it to the goal and get your shots rated!
Overcome any obstacle these impossible fields put in front of you! Send the ball in flames through the dancing enemies, concrete barriers, and surfboards! Explore and defeat hundreds of levels with unique challenges, enemies, and rewards, unlock chests, and improve your motor skills while having fun! Start the first level and take your position. Hold the ball by clicking or tapping and drag it to draw a line. This line represents the force the player will apply to the ball. Use trampolines, fly through car tires, and hit the target board to pass levels. Use your lucky foot to collect gold coins and keys to add to your savings. Unlock chests to earn surprise skins as well as extra gold. You can stop by the game shop and unlock new looks for your character and ball, and add even more colors to this crazy challenge!
If you like this game, you can check out Football Juggle and start scoring points with your juggling skills!
Developer
2Play developed Football Master.
Release Date
September 12, 2022
Features
Changing themes with funny characters
Colorful 3D graphics
Increasing difficulty
Hundreds of levels
Surprise rewards
Controls
You can use your mouse to play this game.