Play Now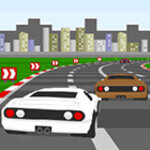 In FreeGear, the cheering of the crowds and the roar coming from the engines of the cars fill the air. Get prepared to show your opponents that you're the fastest driver on the race track. Take your place at the driver's seat, fasten your seatbelt, and floor the gas. Are you ready to claim the title of the most prestigious driver?
Different from other titles, this game features amazing retro graphics. In this game, you can try 2 different race modes. You can get familiar with the controls and the gameplay mechanics as you warm-up for the real challenge in the quick race mode. If you believe you're the best driver and don't need practice, then head right into the competition with the challenging tournaments mode. Your objective is to win the world's biggest independent racing tournament. You must be qualified to enter the next tournaments. Winning also rewards you with credits that can be spent to upgrade your stats such as handling, acceleration, nitro boost, and top speed. Have fun and good luck!
For more games featuring these amazing vehicles, head to our collection of online and free car games! Enjoy!
Developer
David Jalbert aka "Diejay" developed this game.
Release Date
August 12, 2010
Features
Quick race option
Challenging tournament
Different races to attend
Can upgrade your car's stats
Controls
Use the arrow keys to move around. Press the Z and X key to toggle gear. Press the C key to use the nitro. Press the P to pause the game.