Play Now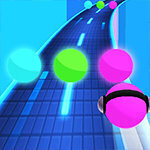 In Music Rush, use your sense of rhythm and your skills to control the colorful ball and compete against yourself in these catchy tunes! Featuring a good taste of music and challenging levels to test your eye coordination skills, this game will shake you up! If you are ready now, put on your earphones or volume up the device to get this journey started!
It is time for you to keep up with the beat and get through the challenging levels in this super fun skills game! Your objective is to keep going without hitting any obstacles until the song ends. Click on the play button from the main menu and start the game. Once the game starts, your ball moves automatically. What you need to do is collecting the mini balls of the same color as yours. On your way, you will see some platforms with different colors. When you pass on them, your ball turns into the color of that platform and, you should collect the mini balls of that color. If you hit to another color, you fail and restart the level. Try to collect as many coins as possible because you can unlock many skins from the in-game shop with your earnings. When you complete one level, the music will change in the following one. Good luck and have fun!
If you want to try another skill game as thrilling as this one, then be sure to check Stack Colors by clicking here.
Developer
Azerion developed Music Rush.
Release Date
February 28, 2020
Features
3D colorful graphics
15 different tracks to enjoy while playing
Multiple skins to unlock from the in-game shop
Entertaining and addictive gameplay
Controls
You can use your mouse or finger to play this game.