Play Now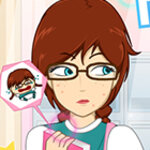 In From Ugly to Pretty, join Maura in her high school and help her become pretty with the help of her friends. Maura has a big crush on the popular kid James, but he doesn't seem interested in her. Time to show him what he's missing by giving Maura a great makeover!
With her glasses, braces, and a bookworm personality, other kids usually make fun of Maura, and she wants to change. Calling her best friend Charles, it's time for a glow up for this cute girl! Your objective is fun and simple! All you have to do is to complete each level by using different items to give Maura a makeover. First of all, let's get rid of those glasses and get some contact lenses. Then, remove those braces. You can see the steps you need to do on the screen. Does she look cute yet? James doesn't think so! But the prom is approaching, and it'll be the perfect time to shine. Give Maura a facial treatment, and change her look with a new hairstyle and outfit. Don't forget the accessories. After getting everyone's attention at the prom, she's ready to talk to her crush, James! But are they meant to be, or is James just another loser who only cares about looks? Find out in this entertaining and funny game for yourself! Enjoy!
Someone else needs your help! Go and join the princess and give her a makeover in our other game Princess Makeover, by clicking here. Have fun!
Developer
Fresh Girls Games Studio developed From Ugly to Pretty.
Features
Colorful 2D graphics
Funny and amazing characters
Entertaining story
Intuitive controls
Multiple levels to complete
Different customization options
Controls
You can use your mouse to play this game.