Play Now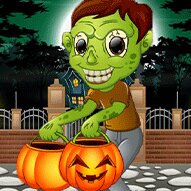 Halloween Words Search is here so brace yourself! Do you trust your vocabulary? Do you have sharp eyes? Do you enjoy creepy things? If your answer is yes, then get ready to dive into the colorful yet scary world of this game. Not only do monsters hide in plain sight! Can you find the hidden words too?
Word search is one of the most simple yet fun puzzle games out there, and this game introduces a creepy twist to it! Your objective is simple! All you need to do is to find all the listed words on the board as fast as you can! The game features 6 different levels, and you unlock them one by one. After you select a level, you can see the word list on the right side of the screen. At the bottom, you can see your score and remaining time. You start with 5 minutes and 4000 points. You must be quick because, with each passing second, you lose 10 points. Words can be placed horizontally, vertically, or diagonally in any direction, so keep your eyes peeled! When you find a word, click on its first letter and drag your mouse/finger on the rest of the letters to highlight it. Have fun!
Check our collection of free and online puzzle games for more titles like this. Enjoy!
Developer
Lof Games developed Halloween Words Search.
Release Date
October 5, 2021
Features
6 different levels to complete
Dozens of words to find
Colorful 2D graphics
Intuitive controls
Entertaining and addictive gameplay
Controls
You can use your mouse to play this game on the desktop, and your finger to play on mobile devices.