Play Now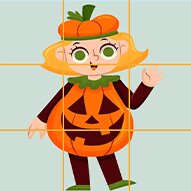 The spooky time of the year may be over, but you can bring spook back in Halloween Puzzles! Get ready for a spooky game and have fun solving these fun puzzles. Do you like spending time and putting effort into puzzles? If yes, get ready to have great fun now!
In this puzzle game, there are twelve levels. At each level, you are expected to solve the puzzles. What we mean by puzzle is a 9-square set of blocks. You should get the picture of a Halloween character by sliding the blocks of picture pieces. You have 35 seconds to complete the puzzles that are given to you at each round. If you don't feel comfortable, you can check how many pieces out of 9 you put in the correct place. When you put all the puzzle pieces in the correct place, you will see the Halloween picture emerging, and you will automatically pass to the next level. Now, relax and have fun playing this amusing and spooky game of puzzles!
If you enjoyed playing Halloween Puzzles, you should check out our collection of free and online Halloween games by clicking here.
Developer
Fun Best Games developed Halloween Puzzles.
Release Date
October 19, 2021

Features
• Colorful graphics
• Entertaining 12 levels
• Fun gameplay
• Intuitive controls
• Spooky Haloween!
Controls
You can use the mouse of your computer to slide the puzzle pieces.